Part Number: SCRMDEV-X86-98
Note: The SCRAMNet I/O device is intended to be used with the SCRAMNet ISA card. "ISA" based cards are not supported by Win2000/XP and are not recommended for new designs.
The SCRAMNet I/O device for V+ allows V+ to connect to the SCRAMNet bus. See www.systran.com for more information regarding the SCRAMNet bus and associated hardware and software components.
This driver is intended to be used with the SCRAMNet ISA card, and will not work with the PCI version. Also, several utilities are provided with the hardware that enable the user to setup the hardware for use with this driver. Once the hardware has been configured, it is necessary to configure the V+ software so that it will properly communicate with the hardware.
BEFORE USING THE SCRAMNET SYSTEM
Note: only the ISA version works properly.
Only the first 4k of memory is available on the hardware. The card allows you to map this area of memory anywhere within the PC memory space. SimPhonics recommends D800H since this is usually available and can be address directly with the driver.
The driver contains an input and output section that allows transfer of data from V+ to the hardware and vice versa. The data is transferred through a dual-port RAM interface installed on the card set. The driver software configures the dual-port RAM as a contiguous array of 32 bit floating point values. Any part of the array can be configured for input or output including the same area.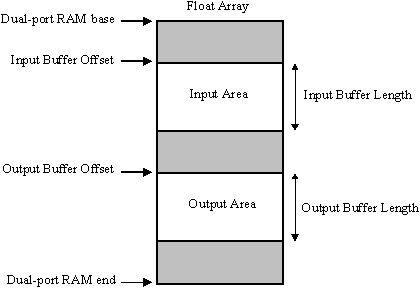 Note that you must first download and install V+ and all necessary supporting software before using this product.