Part Number: ENTDEV-X86
The latest V+ add-on to emerge from SimPhonics is a DIS/HLA 3D sound system! This new software device creates real-time audio from utilizing the existing data available within the DIS packets! This eliminates the need to author Host software specifically to drive the audio system for 3D affects when used for simulating the sounds of DIS/HLA environments. Simply plug in the Network, setup some configurations data, and you're off and listening to whatever is in your DIS/HLA arena!
This latest V+ add-on device was introduced on AEGIS Technologies MANPADS simulator. Installed on the Improved Moving Target Simulator (IMTS), this system generates realistic 3D sound environments around observers inside a visual dome, within headsets and speakers. The MANPADS trainer is used to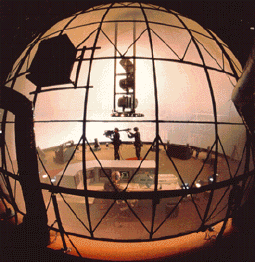 train Stinger missile crews to visually and aurally recognize an aircraft flying overhead; approaching from the side, behind, etc. While SimPhonics normally simulates the audio from an inside perspective, this system generates it from an external observer's perspective. The IMTS for MANPADS features up to 50 dynamic targets simultaneously; including 50 additional background sound effects, such as tanks, vehicles, battlefield, and environmental sounds. This is more than four times the sounds, that other vendors are able to produce. Also, since the models are completely visually programmable by the user, additional effects can be added at no additional cost.
The DIS/HLA monitoring device, coupled with SimPhonics' SMx hardware and V+ Programming System can be designed to route any sound or combination of sounds to any speaker or headset. This sound adds a completely new dimension to the MANPADS system; targets can be heard before they can be seen, and Stinger crews are trained to differentiate friend or foe aircraft by their sound and visual appearance. Without the SMx sound system, this training system would not be effective.
The DIS/HLS device software add-on allows significantly more realistic sound modeling than was previously available in the industry. The following sound aspects are modeled:
BEARING EFFECTS
This system is User configurable to any system headset or speaker arrangement. The bearing effect, dependent on speaker configuration, simulates the directional characteristics of the sound relative to the observer. The SMx the system can accommodate any speaker configuration up to 64 different speakers or headset I/O's.
RANGE EFFECTS
Sound propagation loss through air is simulated along with ground absorption. Simple range attenuation is not enough to properly simulate targets that are flying close to the ground, at low observation angles relative to the observer.
DOPPLER SHIFT
Doppler shifts are simulated by pitch shifting the sound model according to relative velocity.
ENTITY ASPECT ANGLE
The relative angle of the entity is simulated with respect to sound. For example, and aircraft flying towards the observer will sound different from one traveling away from the observer.
BACKGROUND SOUNDS
Additional entity types can be generated for background sounds such as urban environment sounds, small arms fire, artillery, weather effects, etc. These can be placed anywhere around the observer for added realism.
SPEED OF SOUND SIMULATION
The speed of sound is accounted for within this model. This is particularly important for fast moving aircraft, and sounds that have distant visual effects, since the visual effect is apparent before the sound is heard.
In summary, SimPhonics SMx audio system now provides even more realistic simulation sound environments. This system is the most realistic and highest performance audio system for 3D environments in the world. A visual programming system means the system is self-documenting and easily changed. For more information, contact SimPhonics.