ISA-30 DSP Card
Note: This product is not supported by Win2000/XP and is not recommended for new designs.
The SimPhonics' ISA-30 digital signal processor card is an ISA plug-in board for DSP applications. The card was designed for modular, real-time systems where hardware must be scaleable with a minimum impact on software. This card is the workhorse for the SimPhonics' FX series digital audio systems.
Using the Texas Instruments' TMS320C30 DSP, providing 30 MFLOPS of processing power, this card also includes 64K X 32 zero wait-state SRAM for program and/or data storage which is expandable up to 256K X 32. Communication between the PC and DSP is via a 2K X 16 dual-port SRAM, and is coupled with a test bus controller interface to accommodate program uploading, real-time data manipulation, and C30 C source code level debugging.
One of the many unique features of SimPhonics' C30 design includes a high speed GMX interface which connects multiple ISA-30 cards together. The interface uses a 2K X 32 dual-port SRAM between cards, allowing data to be transferred in either direction at zero wait-states. The GMX interface also provides the ability to trigger interrupts on adjacent cards in order to synchronize real-time parallel processing between cards. A DSP-LINK interface is featured on the card providing access to many different types of peripheral cards, such as, high speed digital and analog I/O from a number of different sources, including the SimPhonics' AUDIO-16 digital audio interface card. An expansion connector is also provided on the card for adding memory, custom circuitry etc.
---
GMX BUS
The GMX interface is a high speed, dedicated interface on the ISA-30 that allows it to send/receive data to/from adjacent ISA-30 cards without incurring any handshaking overhead. This is accomplished by the use of a 2K X 32 dual-port SRAM between each card. As shown in the figure, the cables may be connected in a loop so that data may be circulated though a parallel processing chain consisting of several cards.
Since the GMX interface memory is located on the expansion bus and the program/data is located on the primary bus, the DMA controller can be utilized to move data around the chain while the DSP is processing data. This scheme provides a very flexible software/hardware architecture that is well suited to real-time applications. SimPhonics' FX-3000 digital audio system, designed for flight simulators, is built around this scheme. Since the data is circulated through each DSP, DSP-LINK cards may be attached to any or each of the cards.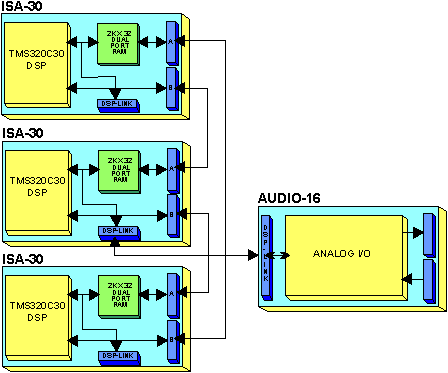 ---
ISA INTERFACE
The ISA-30 provides an interface between the ISA bus and the DSP via a 2K X 16 dual-port RAM. This 2K memory window is accessible via two I/O mapped registers via the ISA bus I/O address space. The test bus controller is also I/O mapped, and is used to control the DSP, including downloading programs. Up to six cards may be addressed in this manner.

---
DSP-LINK INTERFACE
SimPhonics also provides a DSP-LINK digital audio card with 16 channels of CD quality input and output. Each input and output is also differential and can accept a wide variety of signal voltage ranges. DSP-LINK is a trademark of Loughborough Sound Images and is compatible with most of their DSP-LINK products.
The ISA-30 is shipped with a variety of software to help the user develop code for the card. A complete real-time application is provided that features a background and foreground processing framework to help the user get started quickly. Also included is a Run-Time PC Library, a Run-Time DSP Library, and several command-line utilities.

---
Host Bus
16 Bit, ISA, Single Slot
DSP Type
TMS-320C30
Clock Speed
30MHz
Memory
64K X 32 / 128K X 32 / 256K X 32
ISA Dual Port
2k X 16
GMX Dual Port
2K X 32

---
SM5001-11
ISA-30, 64K X 32
SM5001-21
ISA-30, 128K X 32
SM5001-31
ISA-30, 256K X 32