SimPhonics Releases Microsoft Flight Simulator I/O Device for V+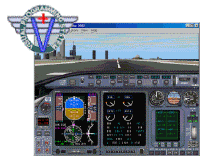 5/29/2002
The V+ Interface for Microsoft Flight Simulator 2002 is an add-on for the V+ Visual Programming System that provides access to various dynamic variables within the Microsoft Flight Simulator 2002 environment from the V+ environment. These variables can then be connected to other devices that V+ supports such as actual aircraft instruments, graphically developed instruments, actual hardwired panels, etc.
---
SimPhonics has been developing simulation and training industry software since 1988. Our customers include commercial airlines, simulation companies, and military/government agencies.
For more information, please contact:
Linda Lack, VP Operations
SimPhonics, Inc.
3226 N. Falkenburg Road
Tampa, FL 33619
Phone: (813) 623-9917
FAX: (813) 623-5119