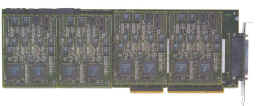 16 Channel Digital Audio Card
Note: This product is not supported by Win2000/XP and is not recommended for new designs.
The SimPhonics AUDIO-16 card is a high performance 16 channel, 16 bit digital to analog and analog to digital conversion board with a DSP-LINK interface. The card is designed to connect to a variety of DSP cards that provide a DSP-LINK interface. While operating at a variety of sample rates of up to 48kHz, the card minimizes DSP overhead by utilizing a dual port SRAM interface to the DSP-LINK bus. Up to four cards may be addressed on the DSP-LINK bus, providing an unprecedented number of channels. An interrupt line to the DSP indicates the start of a sample frame and is used to synchronize the sample process.
The card is shipped with a comprehensive user manual and sample "C" software that runs on a SimPhonics ISA-30 DSP card, although other DSP cards may be used. Additional software is provided for diagnostics, internal signal generation, etc. The AUDIO-16 card is designed for applications requiring high signal quantity and quality. More importantly, on-board processing relieves the host DSP of burdensome processing tasks and minimizes the interface protocol overhead, leaving the DSP to process the data rather than move data around. The AUDIO-16 card can be configured with 4, 8, 12, or 16 channels since each plug-in module provides four channels of I/O. Other module types are planned.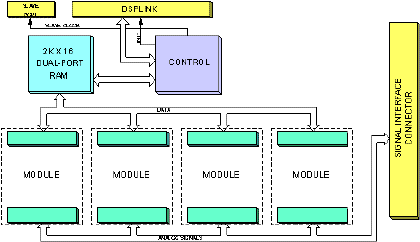 ---
Modules
The AUDIO-16 card consists of a baseboard and up to four plug-in modules that provide four inputs and outputs each for a total of sixteen channels. The plug-in module is designed for maximum signal interface flexibility. Each signal is differential, dramatically improving noise immunity. Each channel features programmable gain on input and output, in addition to user selected input resistance. Each input channel also features a phantom power option that can be enabled for powering pre-amplified microphones. The SimPhonics AUDIO-16 is currently utilized on SimPhonics high fidelity digital audio systems for flight simulation and training devices that require very high performance and signal quality in a real-time environment. For more information, application assistance, or pricing, contact an applications engineer at SimPhonics.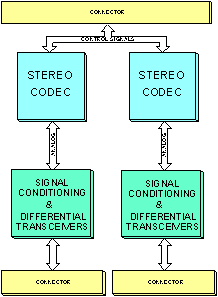 ---
General Specifications
| | |
| --- | --- |
| Resolution | 16 Bit |
| Interface | DSP-LINK (16 bit) |

---
Input Specifications
| | |
| --- | --- |
| Max. Voltage, Gain = 0db | +/- 4.85V |
| Max. Voltage, Gain = +20db | +/- .485V |
| Bandwidth | 7.4Hz - 0.45F (F=sample freq) |
| Group Delay | 16/F sec. |
| Input Z | Configurable |
| Distortion | .001% |
| SNR | 89db |

---
Output Specifications
| | |
| --- | --- |
| Full Scale Voltage | +/- 4.85V |
| Bandwidth | 7.2 Hz - 0.45F (F=sample freq) |
| Group Delay | 16/F sec. |
| Deviation From Linear Phase | 1 deg |
| Min. Load @ Spec Distortion | 600 Ohms |
| Distortion | .006% |
| SNR+ | 90db |

---
Part Numbers
| | |
| --- | --- |
| SM6001-00 | BASEBAORD |
| SM6001-10 | 4 CHANNEL VERSION |
| SM6001-20 | 8 CHANNEL VERSION |
| SM6001-30 | 12 CHANNEL VERSION |
| SM6001-40 | 16 CHANNEL VERSION |