Atlantis Selects SimPhonics for CPT Trainer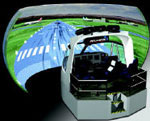 8/12/2002
SimPhonics was chosen by Atlantis Systems International to provide the audio systems for their Cockpit Procedure Trainers (CPT's). These trainers will simulate the Canadian Search and Rescue Helicopter "Cormorant" and ultimately be delivered to the Canadian Department of National Defence (DND). They will include a 16-channel SMx audio system, V+ software and the Text-to-Speech I/O Device, used to simulate multi-channel ATIS broadcasts. Atlantis plans to soon authorize the order of 10 additional copies of V+ software to support their EH-101 Desktop simulators.

SimPhonics personnel will be performing an EH-101 recording session while accompanying crew on a test flight. By using actual helicopter recordings and the SMx system, for streaming digital audio, SimPhonics will provide a realistic, high quality audio simulation environment.
---
SimPhonics has been developing simulation and training industry software since 1988. Our customers include commercial airlines, simulation companies, and military/government agencies.
For more information, please contact:
Linda Lack, VP Operations
SimPhonics, Inc.
3226 N. Falkenburg Road
Tampa, FL 33619
Phone: (813) 623-9917
FAX: (813) 623-5119