MH-53E OFT
for Signal Solutions, Inc.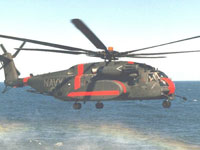 SimPhonics is designing and delivering a 32 channel SMx Audio System to Signal Solutions, Inc., A General Dynamics Company, for use in a MH-53E Operational Flight Trainer. SimPhonics has a great amount of experience providing high-end fully dynamic digital audio for many types of commercial and military helicopters. In addition to the integrated COMM system, this device will have DIS/HLA capabilities and up to 8 channels of Text to Speech. The TTS add-on software can provide simultaneous multi-channel synthetic ATIS, use for GCA, Notice to Airman's or Lesson Plans.

While SimPhonics is providing V+ application development, Signal Solutions purchased a V+ Development System license, enabling them to maintain changes and updates and create new data themselves.