Echo Digital Audio and SimPhonics Develop the "Super Mixer" - SMx
Echo Digital Audio Corporation and SimPhonics Incorporated have developed a new Windows XP "super mixer" that operates in kernel mode. This powerful mixer used in conjunction with modified hardware breakout boxes allow for ANY headset connection without preamps, provides Phantom Power and other hardware qualities specific to SimPhonics' specification. The new SimPhonics PCI based SMx audio system was a design effort funded by SimPhonics at Echo to add features and make changes to existing hardware to dramatically improve the state-of-the-art for high-end military and commercial flight simulation and training equipment.
New Features and Better performance" - SMx
The existing Super Mixer architecture has been in use for several years in hundreds of installations around the world. New high speed "DSP like" instructions are now available from Intel that the super mixer has utilized to improve performance. New systems with 64 channels in and out are now common and more processor power is now available to perform more V+ tasks. Also, a new 64 X 64 "Wave Out" to "Wave In" mixer has been added to enhance flexibility in recording and bridging applications. Now an off the shelf VoIP phone can be routed directly to a DIS/HLA radio effectively creating a VoIP to DIS/HLA bridge. Just dial a number on your VoIP phone and your connected to a live DIS/HLA exercise.
"SimPhonics is the only simulation audio vendor that can provide this many channels in a single system. Also don't forget latency, all of this processing and still less than 6ms of audio latency from any input to any output. When you compare apples to apples, the competition simply cant keep up with 64 channels in and 64 channels out mixed in all combinations with less than 6ms latency using 24-bit audio sampled at up to 50kHz sample rates. There is just nothing out there like this."
ACRONYMS: WI - WAVE INPUT, WO - WAVE OUTPUT, AI - ANALOG INPUT, AO - ANALOG OUTPUT.
<![if !vml]>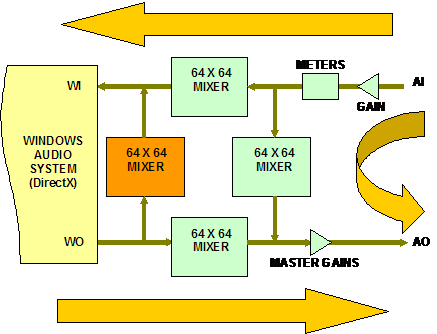 <![endif]>